3 Unique Theme Ideas for Afternoon Tea in Your Garden Pavilion
7th June 2019
Summer is the perfect time to make use of your garden pavilion, and there is no better use than having your friends over for afternoon tea!
Afternoon tea has gained huge popularity over the past few years, so the last thing you want is for your gathering to seem clichéd. Rather than serving up the basic afternoon tea that everyone will be expecting, why not choose a theme to add a little more excitement into the mix?
3 Fun Themes for Afternoon Tea in Your Garden Pavilion
Bring your garden pavilion to life with these fabulous ideas for afternoon tea.
A Technicolour Feast
Feed your guests the brightest and most flamboyant food they've ever encountered by throwing a technicolour afternoon tea. Decorate your garden pavilion with brightly coloured balloons, hang bunting and get ready to dazzle your guests.
The colour needn't stop at the decor, the food can be a feast for the eyes as well as the stomach. If you have the time, have a go at making rainbow bread for your sandwiches. Serve cocktails and/or mocktails to keep in with the theme of colour, and macaroons are an essential confectionery choice.
If you're worried about all the synthetic colours your friends might consume, then look to nature for its own bright colour palette. Cherry tomatoes, beetroot, sweetcorn and peppers will help you make a rainbow salad, while a fruit salad will make for a funky looking healthy option when it comes to dessert.
English Country Garden Afternoon Tea
This suggestion is decadent and even a little daring. It can be difficult to pull of a theme revolves around edible flowers and an illusion of nature at every turn. To pull this theme off, you need to be a little experimental.
Buy a strip of realistic fake grass, and use it as a table-runner. Pick some wild flowers and display them in an old wine bottle as a centrepiece. You could even display large pinecones if you're at the end of the summer when the leaves turn orange.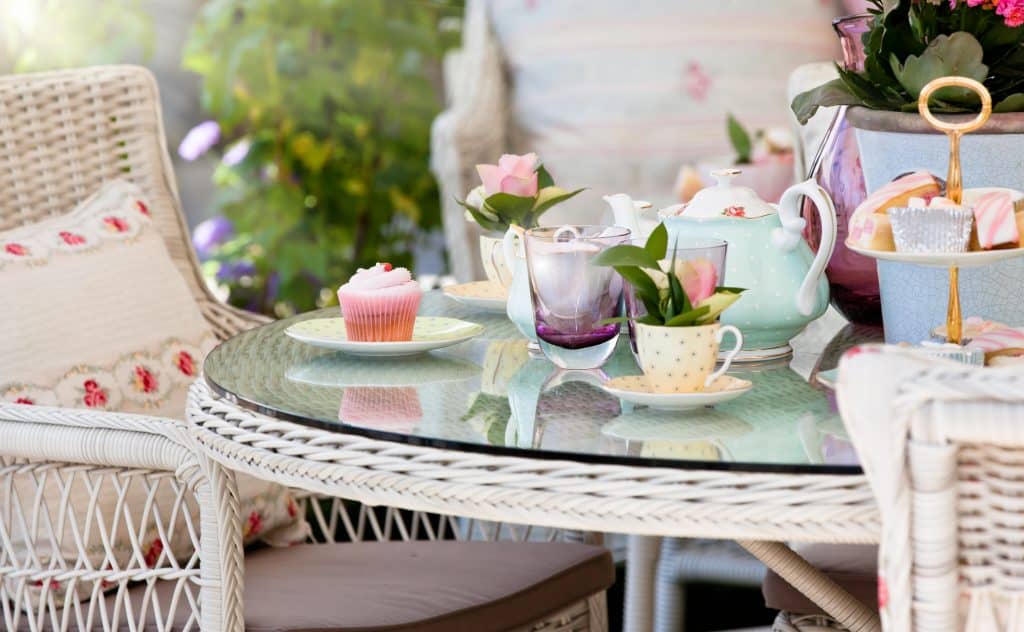 Cut salad vegetables into floral shapes and garnish everything with edible flowers. Server elderflower cordial or home made lemonade to add to the English country garden vibes.
Outer Space Afternoon Tea
In a garden pavilion far, far away…
Someone threw a great afternoon tea party!
If you want to serve your friends something that's out of this world, consider a space-themed party. Cut your sandwiches into tiny stars, make fruit skewers that look like rockets and impress your guests with cake-pops decorated to look like planets.
For drinks, go for something with a bit of sparkle. Make coloured spherical ice cubes so they look like planets floating in your lemonade. You can even get shimmering liqueurs to give your tipple a twinkle.
It might be an idea to go totally against the grain and host this afternoon tea at night, under the moonlight. Illuminate your garden with fairy lights that glimmer like stars to add the finishing touches to the party, and your friends will have a blast (off)!