Beautiful Garden Room Ideas To Complement Any Garden
4th November 2021
A garden room doesn't have to be drab, dull or stick out like a sore thumb. In fact, many garden rooms these days are interesting, pretty, inviting and in keeping with their surroundings. Here are some beautiful garden room ideas that may be perfect for your outdoor space.
Summerhouse
A summerhouse makes the most quaint addition to any garden. It is that quintessential English touch and can be dressed in a wide range of ways which adds to that cottage garden feel. By adding window boxes, curtains and décor really create that home is in the garden theme. If you live in a coastal area or have a nautical theme to your garden space then a summerhouse painted in colourful stripes to reflect that of a beach hut works beautifully. Of all the garden room options this has to be one of the most well-loved.
Canopy Garden Room
The Canopy Garden Room has clean lines, beautiful wooden walls and a canopy for style and protection from the elements. This style of room makes for a pretty place for evening socials as a home gym, a hobby room or a playroom. With bi-folding doors that open up onto your garden space, this room will easily connect the outdoors with the indoors and will fit right in around your greenery. For added beauty, many people choose to grow climbers up the walls, opt for a green roof, add pots and plants underneath the canopy as well as fairy lights around it to light up at night.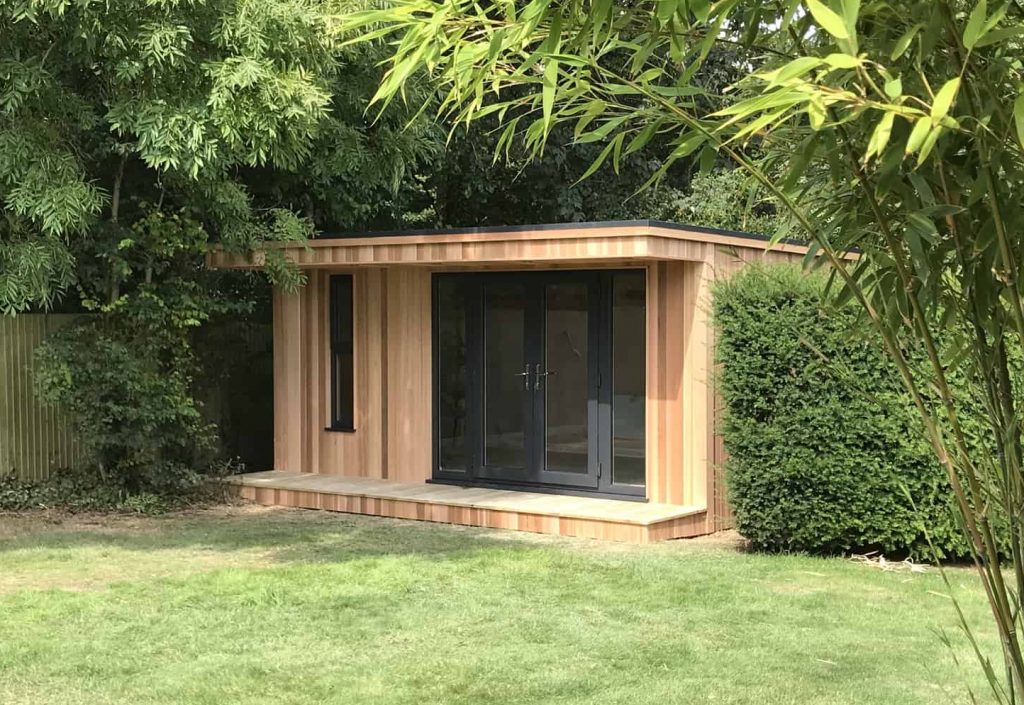 Concave Room
The Concave Garden Room comes with all of the great features of a Canopy room, but the construction differs slightly in that it offers enclosed decking on all sides for added privacy and comfort which makes it ideal for family entertainment, as a cinema room or even as a separate living room from the house. This makes for a beautiful garden room because you can really go to town and dress that decking up to create a feature point that you can enjoy from inside the building, from the garden and even from inside your house looking back at it.
Rendered Room
If a wooden structure isn't quite for you (and that's ok, we all have different tastes) then the Rendered Garden Room may well be. With its beautifully plastered exterior walls, this room can be painted to a colour of your choosing and will look sleek, modern and interesting. This room can also come with an added canopy and decking which can be dressed up as we have mentioned above to create a real focal point in your garden.
Border Room
The Border Garden Room again comes in a beautiful wooden finish but also features a stylist powder-coated metal trim to surround the front of it. Here at Modern Garden Rooms we can offer the border in white, light grey, black and anthracite grey all of which make a great impact. This is the mix of traditional with modern which gives you a really unique look to your garden room and can make a fantastic talking point. Decking, steps, canopies, bi-folding doors can all be added for style and again, you can dress all of this up to truly make your garden room stand out.
As you can see, a garden room doesn't have to be ugly, it can be just as beautiful as your home, if not more! With a few finishing touches, some clever planting ideas, a lick of paint, a few pretty homely additions you'll have an outdoor space to love.