Modern Garden Gym from £14,950
Customisable Garden Gyms
Bespoke garden gyms made from durable all-weather materials. Fully customisable outdoor fitness studios and workout spaces, made to order and installed free of charge. Fast delivery nationwide delivery with a 10-year guarantee on materials.
Choosing a Modern Garden Gym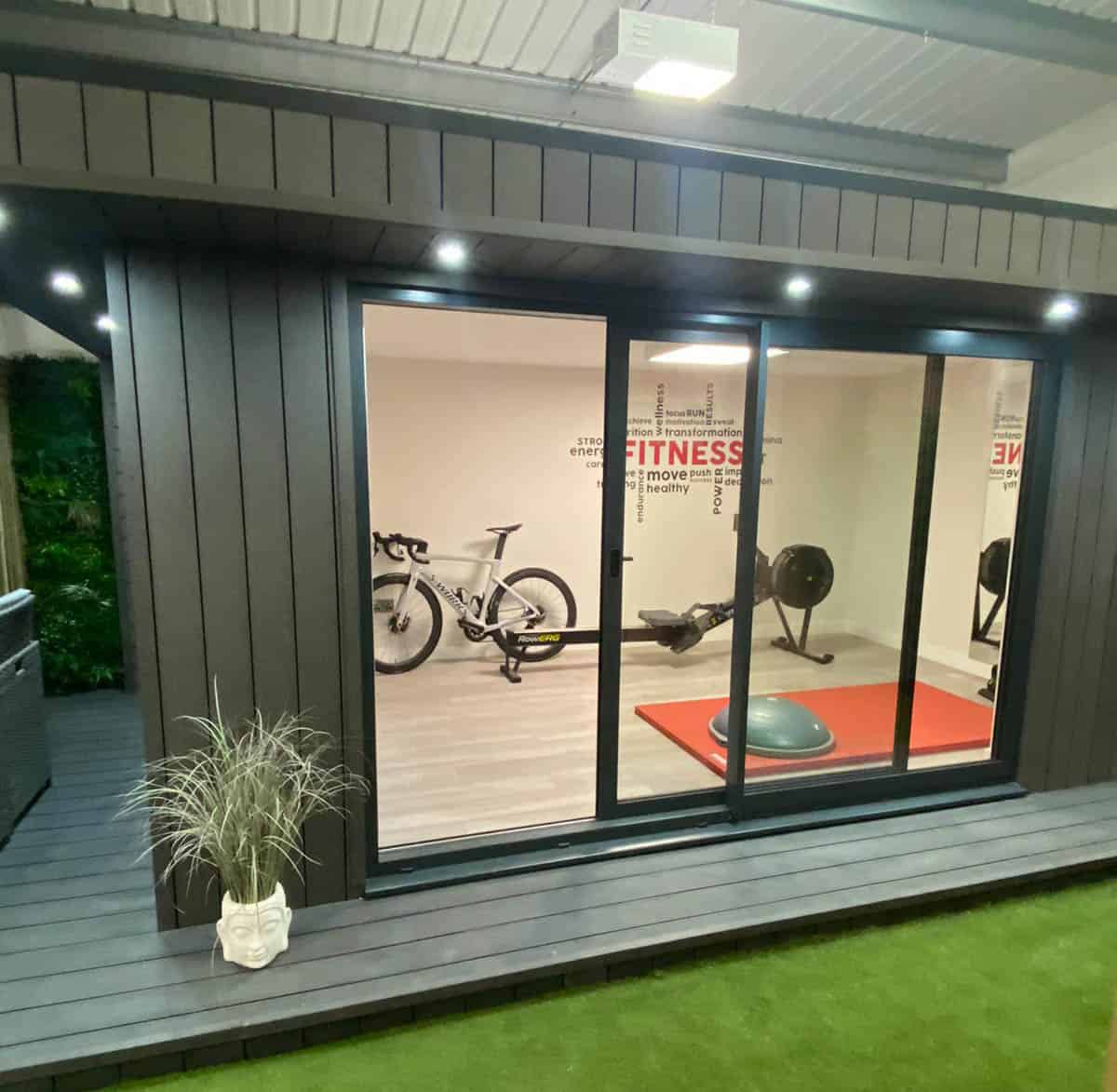 Get in shape any time of year with a modern garden gym. Whether you're doing an intense workout or stretching and building core strength, you can work out in peace all year round!
Our modern garden gyms are an affordable and convenient alternative to a dedicated exercise room within your house. We begin by understanding your requirements for the space before designing a bespoke outdoor exercise studio that meets your goals – from functionality to aesthetics. A fully customisable, insulated, heated, and powered, a garden gym is a fast, flexible solution for exercising at home all year round. And with our design expertise, we can have your garden gym fabricated, delivered, and installed in just a few weeks.
Garden Gym Planning Permission
Create a dedicated, tranquil space in your garden to work out – without having the need for planning permission.
Modern Garden Rooms have created a collection of garden gyms that are specifically designed to meet Planning Permission criteria. We ensure that they take up 50% or less of your total garden area, and that the structure is no higher than 2.5m from the bottom of the building to the top of the roof, meaning that in most cases you can build a garden gym without needing to go through the planning process with your local authority. Without the time and cost of the application and approval process to slow you down, you could be working up a sweat in your new outdoor fitness studio in three weeks or less!
Stay Fit Year-Round
Stay active all year round in a fully insulated, weather-proof garden gym.
We know you're looking for a space that is both relaxing and productive, so we designed our garden gyms with these needs in mind. With energy-efficient insulation and heating features, along with built-in power outlets to keep your devices charged and your motivational soundtrack playing, your outdoor gym can easily transition into an office or even an extra living area when needed. Use your garden room as a:
Modern garden gym
Outdoor fitness studio
Home exercise studio
Garden weight room
Outdoor yoga studio
Garden dance studio
Design a Bespoke Garden Gym
Use our simple drag and drop design tool to begin designing your ideal garden gym from scratch, or customise one of our best-selling modern garden rooms. You have complete control over the size and shape of your garden gym; the fixtures and fittings; the placement and style of the windows and doors; and the finishing touches such as floorings and furnishings. And what's more, the 3D design tool helpfully gives you an updated cost estimate as you build and add features to your garden gym.
Modern Garden Gyms
If you're looking for the perfect space to take your training and fitness routine, then a bespoke garden gym is the ideal solution. A dedicated exercise studio is a great choice for those who don't want to sacrifice living space in their main home, and can even increase the value of your property in the long run.
We use innovative construction processes and superior quality materials to ensure your new garden gym will last 30+ years, with a 10-year guarantee on all building components. The garden gym experts at Modern Garden Rooms handle the planning, design, and installation process, which means that we can have your new fitness studio up and running in under three weeks. Book your free, no-obligation garden gym survey and quotation today.
Garden Gym Features
Zero Maintenance
Join the green revolution with our garden gyms and outdoor exercise studios. Built to last, these structures are made from sustainable all-weather materials that require zero maintenance!
No Planning Permission
In most cases, we can install your new home gym in a matter of weeks – without planning application. Your new workout space is just weeks away with our quick and easy fitting process.
30+ Year Lifespan
To ensure our modern garden gyms have a minimum life span of 30-years, we use innovative building methods and quality materials. We also back them up with a 10-year warranty for peace of mind.
Work Out Ready
Build a garden gym and exercise studio that is custom designed to your specifications, with durable hard floors and plenty of power sockets for workout equipment, sound systems and more.
Fully Customisable
From the size, shape and placement of windows, doors, fixtures, and fittings to the layout of your building design, we tailor your modern garden gym to your exact requirements.
Year-Round Use
Our range of modern garden gyms are purpose-built to keep you warm in winter and cool during summer, so that even if the weather changes you can work out in comfort all year round.
Design Your Garden Gym
Designing bespoke garden gyms has never been this easy. Our 3D Design Tool allows you to drag and drop the doors, windows and walls of your garden gym room. Choose your favourite style, add options, change colours and more!