Garden Nursery 6m x 3m
12th December 2018
Garden rooms are extremely versatile spaces, with dozens of potential uses. However when Mother Goose Nursery in Peckham approached us for a quote to replace their old classroom with a new garden building, it was the first time that Modern Garden Rooms had been asked to install a children's Garden Nursery.
The polar opposite to the classic man cave, a Garden Nursery is not intended to be a modern, stylish space for grown-up pursuits or relaxation.
This new garden building needed to be a much more practical space. A space designed with children in mind, where they could be free to do the things small kids do; like make a lot of mess and noise. A place for toys, bright colours and laughter.
Specification:
The Garden Nursery building measured  6m x 3m.
The model was a Canopy Garden Room surrounded by 2m timber decking and a rope barrier, clad in red western cedar with 3m UPVC sliding patio doors.
Client Name:
Mother Goose Nursery, Peckham, London
Requirement:
When they contacted us, Mother Goose Nursery had two large but awfully rickety-looking garden sheds which they were using as makeshift classrooms and outdoor toy storage for the children attending the nursery.
They had served the nursery well, but unfortunately these old garden buildings were neither as warm nor as solid as they really needed them to be, and were now in dire need of replacement with something sturdier and more secure.
Mother Goose Nursery's main requirement was that the new space be big, open plan, warm and safe for the children to use as a classroom.
They also wanted a large decking area to surround the new Garden Nursery, which would connect to the nursery's existing decking and save them needing to landscape the whole outdoor area.
Our Solution:
Our design for Mother Goose's Garden Nursery building was a fairly large 6m x 3m canopy room, with 3m UPVC sliding doors to the front and centre, and windows to the side to let a good amount of natural light into the room.
A large canopy, complete with downlighting to illuminate the building entrance, was designed to overlook the 2m decking built to the front of the building. This canopy provided a little shelter and shade to the front of the room.
This decking continued around to the side of the Garden Nursery, providing a large usable space for the children to use ride-on toys. The new decking connected to the existing decking surrounding the 'grassed' outdoor area, and the safety ropes and kick boards stayed in situ.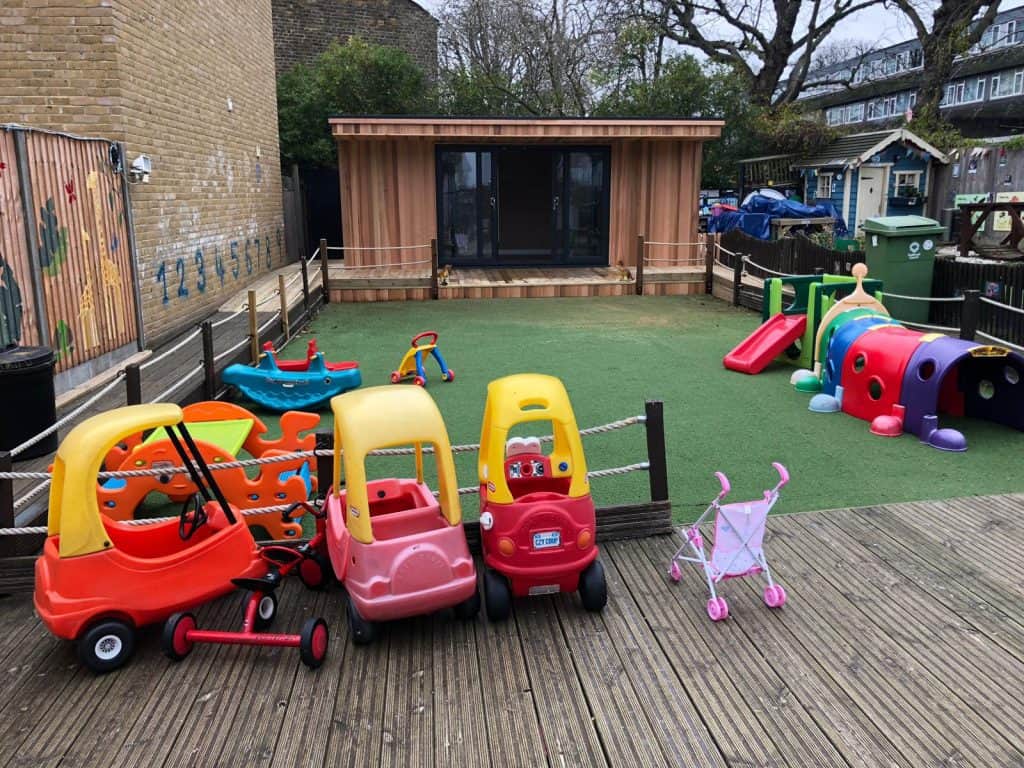 The new Modern Garden Rooms Garden Nursery, a far more attractive and more secure building, was installed as quickly and tidily as possible, to avoid nursery closures.
The whole room was insulated as standard like all Modern Garden Rooms builds, meaning it would certainly be a lot warmer for the children, as well as keeping their noise inside the building.
Inside, the room was plasterboarded and skimmed, ready for the nursery to paint and move straight into!
We hope the children loved their new Garden Nursery.