Bespoke Modern Garden Offices
Fully customisable garden offices, bespoke outdoor workspaces, and external home offices with fast nationwide installation. Made to order from superior quality all-weather material, our collection of stunning outdoor offices come with a 10-year guarantee.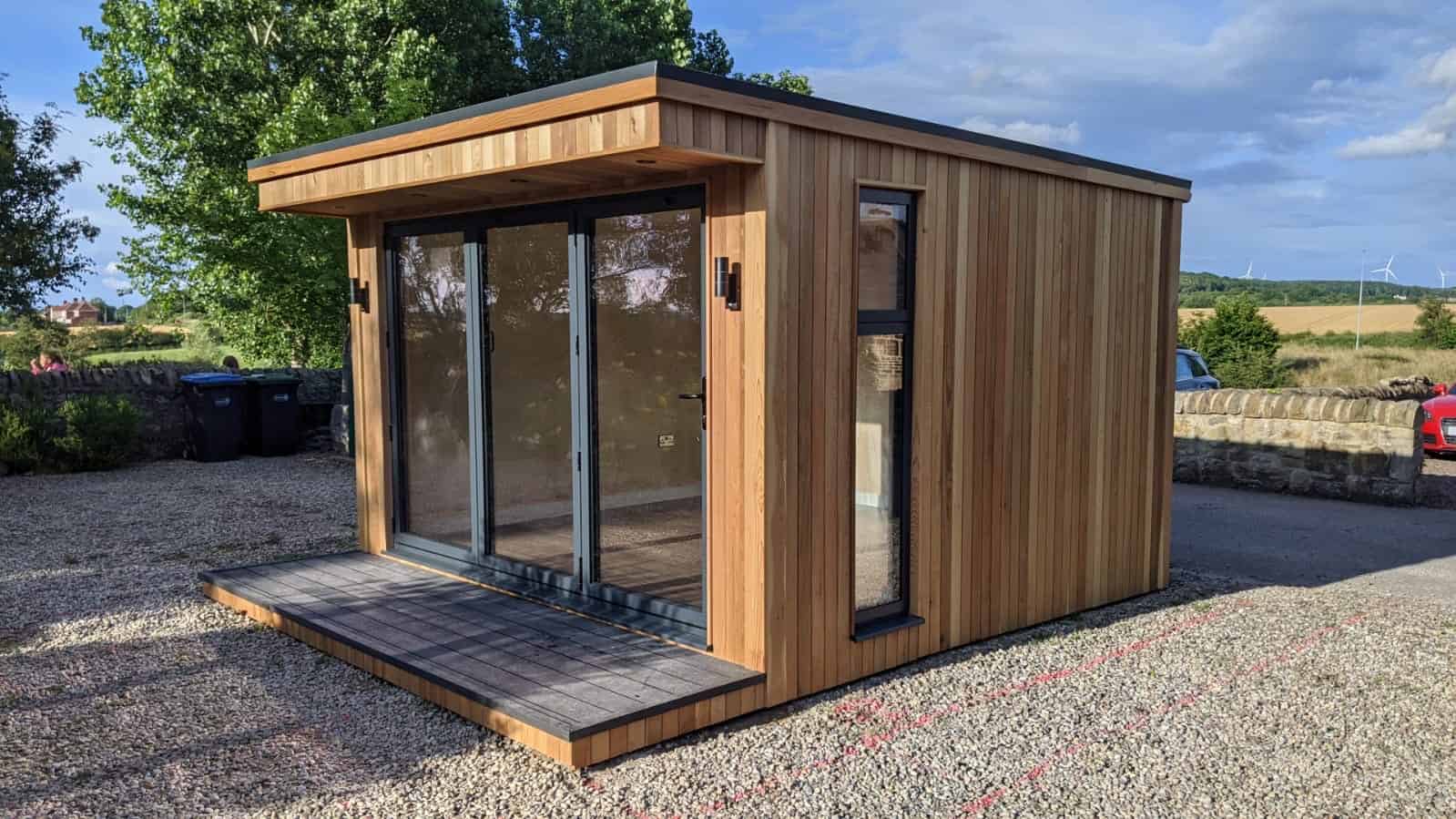 Make working from home work for you with a purpose-built garden office
Our striking range of modern garden offices are designed to give you a year-round outdoor workspace that is comfortable, inspiring, and helps you be productive. Each of our bespoke garden offices is hand-crafted using innovative construction processes and high-performance materials for a maintenance-free lifespan of 30+ years.
The advanced methods and materials we use make our garden offices faster and more cost-effective to install than traditional structures such as timber summer houses, sheds, garden pods and brick garden offices. Our expert team will manage the whole process for you – from design to installation – and will have you setup and working in your new garden office in as little as one week.
Design your bespoke outdoor workspace
Whether you're looking for a small garden office pod for just one person or a large outdoor workspace for more flexibility, we have a solution. Our core range of garden offices can be completely customised and enhanced with additional features to achieve a layout that is a perfect fit for your needs – or we can design a bespoke garden office for you from scratch. 
Use our online configurator to start designing your dream garden office, or talk to our team of experienced expert designers about bringing your vision to life.
Canopy Garden Office
Our stylish 'Canopy' garden office is clad in elegant cedar and features an integrated decking area which connects your workspace with the outdoors. The decked office entrance is sheltered by a one-metre canopy that is illuminated by LED downlights – perfect for when those long night draw in. One of our most popular base designs, the 'Canopy' outdoor office can be built to your size and specification – from as small as six square metres up to 50 square metres in size, and with your choice of windows, doors, flooring, fixtures, and fittings.
Cube Outdoor Office
Designed to welcome in the natural light, this contemporary 'Cube' garden office is the perfect space to work and create. Be inspired by nature and the surrounding gardens in this bright and generous outside office pod which gives you the space and distance to concentrate. Full power enables you to stay connected to co-workers and the digital world and gives you all the comforts you need for productivity. The 'Cube' garden workspace also includes a one-meter decked area for you to take a break, relax, and enjoy your surroundings.
Rendered Garden Office
Looking for a more contemporary outdoor workspace? Our 'Rendered' garden office design is a sleek and stylish alternative to timber clad garden offices. The exterior rendering is available in over 800 different colours, so whether you want your outdoor workspace to blend into the surroundings or stand out as a feature in your garden, we can tailor the finish to suit your taste.!
Concave Home Garden Office
The 'Concave' garden office includes the same stunning recessed decking and downlit canopy as our 'Canopy' workspace design, with the addition of protective side walls to enclose the space and build in a bit more privacy. This luxury home office has a secluded feel to help you maximise your productivity and provides the perfect balance of indoor and outdoor workspace for you to enjoy throughout the seasons.
Border Outdoor Office
The 'Border' garden office is a truly balanced and flexible outdoor workspace. The natural cedar cladded exterior is contrasted by a striking powder-coated metal trim for a contemporary look that blends with the organic surroundings. The 'Border' office design offers the ideal canvas for customisation, with the option to include a decking area, large bi-folding doors, and decorative windows to welcome the natural light.
Installing your garden office is fast, free, and efficient.
Depending on the size and style of your bespoke workspace, we can typically have your modern garden office constructed in just one to three weeks.
We start each project with a detailed site survey so that we understand your requirements and the possibilities available within the space you have. Once we have this information our
team can work with you to bring your vision to life and design a bespoke outdoor workspace that ticks all the boxes. When you have settled on the specification for your garden office, we will provide a breakdown of budget and a detailed project timeline, and get you booked in for installation (which is available nationwide).
Do I need planning permission for my garden office?
We have designed our garden offices to adhere pre-approved planning permission guidelines, which means that in the majority of cases an outdoor workspace can be installed without a planning application.
30+ year life span with zero maintenance
We appreciate that an outdoor workspace is a significant investment, so we make sure that you get decades of use and enjoyment from your modern garden office. Each of our outdoor workspaces are purpose-built using materials of the highest quality, which come with a 10-year warranty against defects and damage. We meticulously piece each element together using innovative techniques that are both withstanding and sympathetic to the environment, to promise you a minimum lifespan of 30-years.
Equipped for work, all year round
Unlike other outdoor buildings such as summer houses, sheds, cabins, garden pods and traditional brick structures, our garden offices are specifically designed to provide an outdoor workspace that can be used all year round. We have considered everything you need for comfort, convivence and productivity – from energy efficient insulated walls and plenty of power points, to generous windows, doors and outside spaces to fill your outdoor workspace with natural light and connect you with your surroundings.
Fully customisable garden offices
Our range of garden office designs provide you with a place to start but are by no means prescriptive. Each of our outdoor workspaces is completely customised to meet your exact requirements and can be built in the size and shape that best suits your space. You have complete control over the style and placement of windows, doors, decking areas and lighting, as well as cladding, skirting, flooring and other finishing touches. Additional heating, lighting, internet connectivity, phone lines and power sockets can be included and positioned in your garden office wherever you desire.
Flexible finance options available
Adding an outdoor workspace to your property is a significant investment and there's a good chance you might want to spread the cost of your garden office installation. Our partners at Pegasus Personal Finance have a range of flexible finance options to help you fund your new home office, so you can get the ball rolling and start benefiting from a bespoke outdoor workspace right away.
Free no-obligation garden office survey and quote
Choosing the right garden office solution is a big decision and takes some time, so we offer a free no-obligation survey and quotation service to help guide and inspire you. A member of our team will visit in person to assess your outdoor space and take a detailed brief to understand your requirements. They will then provide tailored recommendations for how to design your garden office and provide you with a comprehensive breakdown of costs to achieve this.
Get in touch today to find out how we can help build your bespoke garden office.