Garden Reading Nook – 3m x 2m Cube Room
26th February 2019
Nothing beats the peaceful pastime of finding a silent room and curling up with a good book. A quiet room in a busy household can sometimes be hard to find, which is where a garden reading nook might just be the perfect solution!
If you're an introvert with a love of books, you may have already set yours sights on a reading nook in your garden. It's easy to get swept away with thoughts of a warmly lit nook, with somewhere comfy to sit and perhaps even a desk to write at.
Having your own garden reading nook, away from the hustle and bustle of the main house might seem like something dreams are made of, but we were able to create one for William in Leicestershire.
His multipurpose nook-cum-office provides the perfect setting to devour literature and write his own.
Garden Reading Nook Specification:
William's reading nook is the 3m x 2m Cube Room.
This model of cube room was fitted with 2.5m French doors, two 0.5m sidelights and a 1.6m x 0.4m top-opening window. Outside it is finished with 1m of decking which perfectly complements the interior light oak laminate flooring, topped with oak stain skirting boards.
The cube room was also fitted with the standard stainless steel electrical package to ensure the reading nook has a full power supply.
Client Name:
William from Market Harborough, Leicestershire
Requirement:
William wanted his own space where he could both work and relax away from the main house. His main desires were that he wanted as much natural light as possible and needed a power supply to plug in a computer and use electric lighting in the evenings.
He wanted the garden reading nook to have enough room to double as an office, which meant it had to be big enough to contain a desk and office chair, another chair to read in and a book case for both books and other documents.
Our Solution:
We wanted to give William a garden room with the ultimate laid back atmosphere. We went with French doors for the entrance as they let the most light in, and we added an additional window on the back wall to give the room more of an airy feel.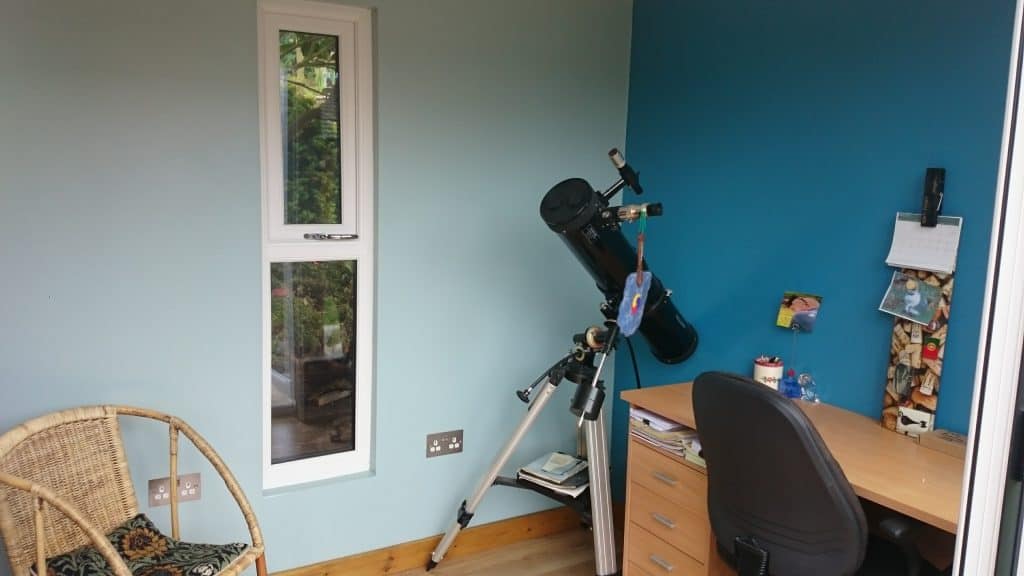 The 3m x 2m size of the cube room allowed the furniture needed for William's reading nook/office to fit in with ease.
The decking out front, overlooking the garden pond, also means that William can bring his chair out of the nook and read in the sunshine on days with exceptionally pleasant weather.
Painted in cool blues and overlooking the serene pond, we think that it makes for a very relaxing atmosphere!