Garden Room Ideas For Every Garden Size and Style
25th March 2021
With being at home becoming the norm the search for garden room ideas is on the rise. It's no surprise considering that a modern garden room can be an office, an exercise room, a bar, a playroom, a treatment room or whatever else you require it to be. This is the new way of extending your home and just like your home, it needs to fit in with your tastes and be in keeping with the tone of your garden. And this is why we are going to look at garden room ideas for every garden size and style…
Seek Out A Corner
Many homes built in the UK now have far smaller gardens than they used to. This can be great for those who don't want to tend to a large open space but it can be tricky if you begin to have bigger ideas for it. One thing that may get ruled out without taking the time to fully research is the addition of a garden room. When you hear those words, I am sure that a large cabin comes instantly to mind but these days a garden room can come in a wide variety of sizes and styles which means that even if you do have a small garden, you CAN have a garden room. The best way to incorporate a building like this into a smaller space is by utilising a corner that you don't use. A small garden room can fit quite snugly into a corner and with a few additions such as pots, planters, flowers etc you can tie it into your outside space without it dominating it.
A Quaint Summer House
Another option for a small or medium-sized garden is a quaint summer house. If you choose one in an octangular shape, this will draw interest and will easily fit into most spaces. Summer houses also make a beautiful feature when painted in pastel shades, are dressed up with curtains, when you add window boxes and so on. These are generally used as potting sheds, reading rooms or for afternoon tea and look perfect in a cottage-style garden.
Blending In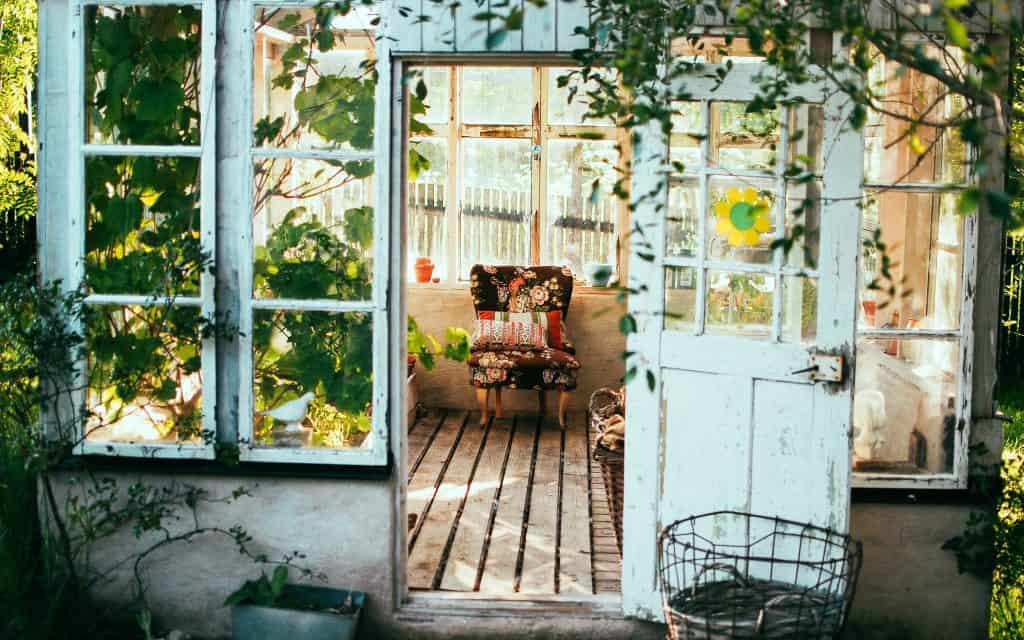 Another clever way of making a garden room fit in with your garden size and design is by allowing it to "blend in". This could be achieved in several ways:
Painting the wood in the same colour as your fences or choosing a green tone that matches your plants.
Use climbers to cover the exterior walls to allow your garden to flow.
Create a living roof by planting perennials that will return year after year.
A Glass House
Sometimes having overbearing walls can seem far too much for certain styles of gardens (minimalist, in particular, comes to mind) and if you can't see a typical garden room fitting in, why not consider an all glass house instead? This look will allow you to seamlessly tie the outside with the inside and will give you a garden room that will always feel as though you are apart of your garden when sitting indoors.
Timber Garden Room
A timber garden room is contemporary and sleek and can be built to your required specifications to fit into your chosen slot in the garden. The great thing about this style is that you can make a real focus out of this build and it can be the hub for your entertainment. You could have the addition of bifold doors, decking and a canopy to really make your garden room stand out.
Zone It
If you have a larger garden you can really go wild with your garden room idea and choosing to zone the area will work beautifully. You can choose to add any features you like such as fencing or a box hedge to surround your zone. You can then add any essentials that you require – if this is for entertainment purposes, for example, you could build a dancefloor, have a patio with seating or an outdoor oven/kitchen. If you have the luxury of installing an outdoor pool then your garden room could be your changing room or chill out area. If you are planning on using the building as a playroom, the outdoor zoned area could be a playground for your children.
If these garden room ideas have given you some food for thought, why not get in touch with us today?