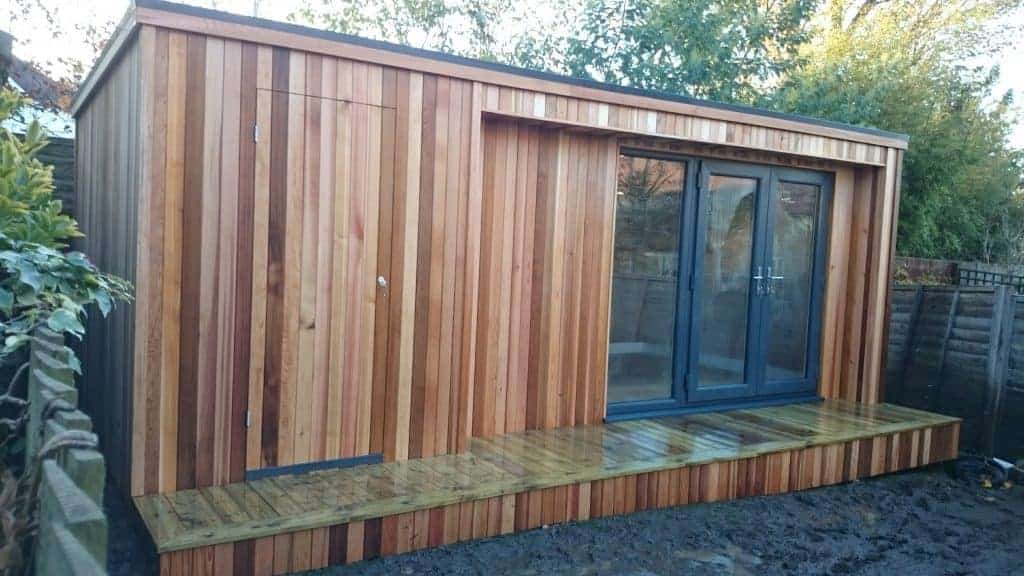 Garden Rooms with Shed Storage
27th July 2022
Garden room with shed storage – can I have both?
If you are sold on the idea of a bespoke garden room but find yourself being held back by the niggling worry that you won't have anywhere to store your garden tools or the family bikes, then fear not – you can have both by adding shed storage to your garden room design!
A single 'garden room with shed' solution means that you don't need to comprise on your desire for essential garden storage – nor do you need to find space to squeeze in a traditional wooden box shed that distracts from your beautiful new garden room aesthetic. We can create areas of storage within any of our garden room designs to create a unique, multi-purpose space that functions for your family.
So, if you have been waiting, this is your sign to add shed storage to your garden room!
Adding shed storage to your garden room or garden office
The benefit of designing a bespoke garden room is that you can include virtually any feature you want (withing reason), including a shed space. You don't need to think about it as a separate solution or compromise with an off-the-shelf option that doesn't fit your needs or style. Just like your main garden room design, your shed storage can be tailored to your exact needs taste and budget.
So how does adding a shed to your garden room work? We simply add internal partition walls to create a storage area in the size and shape of your choosing, for a seamlessly integrated and cost-effective solution. This enables your shed space to be positioned at one end or corner of your garden room or could even run the full length or width of the building. Your garden room shed storage could be a small closet-sized space to stand your lawn mower, or a much larger shed space with wide double doors to house your garden furniture during the winter or stash away the children's garden toys.
The benefits of a garden room or garden office with shed storage
Is there ever a downside to extra storage? Not really, but there are some fantastic extra benefits to adding shed space to your garden room design:
Incorporating storage space into your garden room layout negates the need for a separate shed building that takes up valuable garden space.
Creating a garden room with a shed means that your practical storage looks like a stunning and uniform solution.
The shed area is insulated and weatherproof with the same materials as the rest of the building, which is great for safely storing and extending the lifespan of your possession. No more damp garden seat pads or mouldy tools!
The partition that separates your garden room and shed space can be removed if ever you want to incorporate the area back into the main room, giving you plenty of flexibility for the future.
Garden room sheds have more safety features than traditional timber or flimsy plastic sheds. They feature robust construction and high-quality materials that make them ideal for storing valuable or weather-sensitive items. Garden room sheds also include a variety of security features, such as locking doors and windows, to deter would-be thieves.
Easily access items in a garden room shed by adding wide uPVC doors. These secure and practical doors provide ample space for entry and exit, making them ideal for easily bringing bulky items in and out of storage.
Design a garden room with a shed attached
There are more garden shed options on the market than ever before, but if you're looking for a bespoke storage solution that integrates with your vision for a garden room, then we are here to tell you that it is entirely possible!
If you're not sure where to start, Modern Garden Room's online design tool is a great resource. With just a few clicks you can see what your garden room with shed will look like and get an idea of all the design and customisation possibilities. The tool will also give you an instant price estimate so you can see how adding shed storage will impact your budget. Or, if you prefer, you can call our expert design team and we will help you plan the garden room or garden office of your dreams with the added value of functional shed storage.