Garden Rooms Prices – Guide to Costs
26th August 2021
Garden rooms prices can be a little hard to work out. With so many variables on the type of room you might want, price points can become a little baffling. It's also the case that some places are evasive when it comes to pricing, hoping to capture your data before offering a quote.
Thankfully, Modern Garden Rooms is up front with quotations. While they are always subject to change, it's possible to provide a price guide to help you plan your finances around building a garden room. All of our garden rooms prices vary depending on the size of the room, the style design and any bespoke features.
This list gives you an idea of the rooms we specialise in and the starting price point.
Garden Rooms Prices – What We Offer and What to Expect
Each room has its own unique style and can be built in a size that best fits your garden space. As each design is different, the prices vary a little. All rooms are fitted with brushed aluminium fixtures and fittings, a light switch, lighting, four double sockets, and a 1.5kw heater. Extra sockets can be added as a custom extra.
All rooms also come with oak laminate flooring, which has a 5 year manufacturers guarantee that covers finish and wear. Oak laminate is known for being hard-wearing and very stable, making it the perfect choice for a garden room.
Canopy Room
The canopy room boasts a 1m canopy complete with LED downlights to illuminate the exterior of your garden room. The room is finished with beautiful timber cladding, allowing it to keep a wood-look exterior. When new, the western red cedar cladding will provide a bright wood finish. As the cladding ages, it will eventually fade to beautiful shades of grey.
Prices start from £13,265 for a basic 3 x 2 size.
Concave Room
Similar to the canopy room, the concave room also comes with a 1m canopy as standard. Alongside this feature, it also boasts enclosed decking on all sides. This adds a layer of privacy and looks amazing too. Much like the canopy room, this building is finished with a red cedar cladding exterior.
Prices start from £14,515 for a basic 3 x 2 size.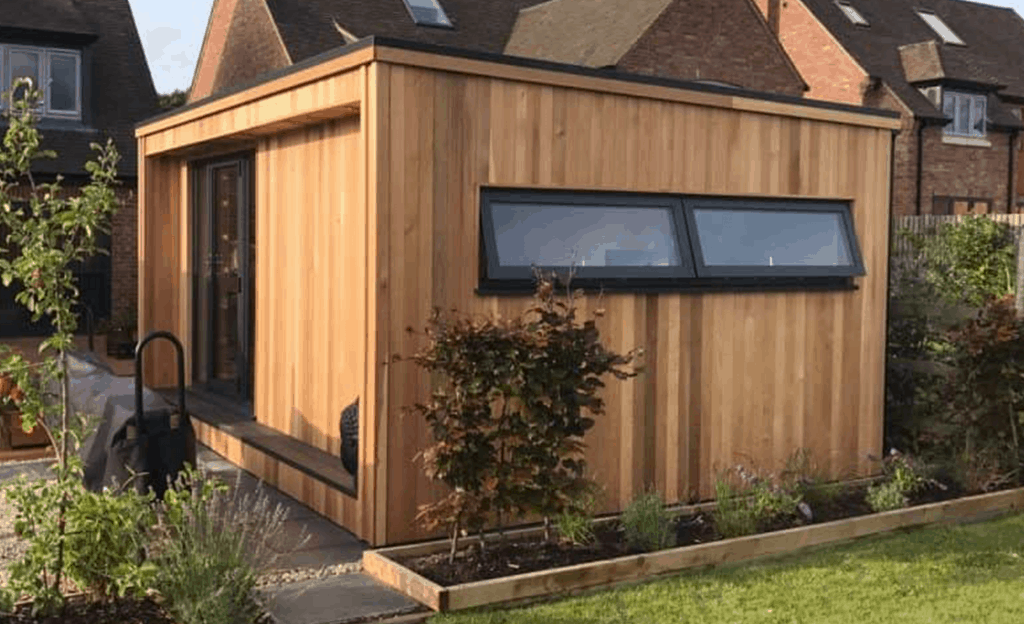 Cube Room
The design focus of a cube room is to let lots of natural light in. Much like the concave room and the canopy room, the exterior is finished using red cedar cladding. As this room does not have a canopy or enclosed decking, it does come in a little cheaper.
Prices start from £12,415 for a basic 3 x 2 size.
Rendered Garden Room
Rendered garden rooms are perfect for anyone who wants something a little different. While the interior boasts all the same features as the other garden rooms, the exterior is rendered and available in 800 different colours. This is the perfect garden room for anyone who loves to stand out.
Prices start from £12,415 if you choose a 3×2 cube design.
Border Garden Room
The border garden room, is named practically as the design features a border. These rooms have a western red cedar cladding finish, with a few colour options for the border. The border itself is created by a powder-coated metal trim, and the colour options are white, light grey, black and anthracite grey.
Prices start from £15,015 for a basic 3 x 2 room.