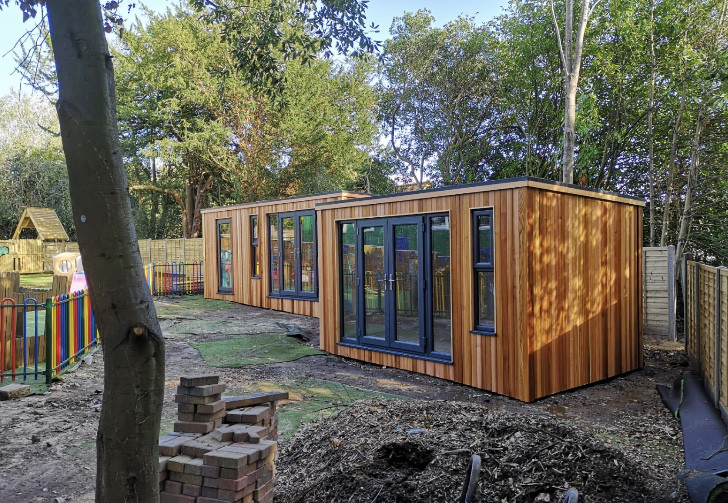 Outdoor Classrooms
30th March 2023
If you're looking for an innovative and cost-effective way to add further learning space to your school or nursery, why not explore the potential of a Modern Garden Room as an outdoor classroom.
These inspiring outdoor educational solutions are designed to make the most of natural light, fresh air and sunshine, creating welcoming and stimulating environments for teaching and learning. With the ability to quickly create a stunning external learning space, our outdoor classrooms are the perfect solution for creating inspiring and affordable educational spaces, quickly.
Practical & Affordable Garden Classrooms
Our outdoor classrooms are truly inspirational. Not only are they practical and stylish, but their beautiful architecture and impressive visual appeal make them stand out from the crowd. Everywhere you look there's something that catches the eye and captivates your attention – sheer beauty that will remain with you long after the day of learning has ended. Our garden classrooms are proof that we can inspire our young people academically without compromising on aesthetics.
All our outdoor classrooms are designed and constructed in the UK with no maintenance required, using only sustainable materials that guarantee to stand strong through any season. Rainproof and fully insulated, they are designed to last over 30 years so you can trust that your investment will be a lasting one. With garden classrooms, you can create a lifetime of learning, inspiring children in nature with minimal environmental impact.
Electrical Points
We outfit our outdoor classrooms with reliable double sockets, so you can put the latest technology and communications at your students' fingertips. With power points placed as and where you need them, we ensure that each outdoor classroom is fully equipped to meet the needs of modern education.
Double Glazing
The double-glazing system that we use for our windows and doors allows us to minimise heat transfer and ensure an optimal flow of light indoors. This is something we believe is essential for creating fun, outgoing and vibrant learning environments beyond the traditional four concrete walls.
Classroom Flooring
If you want to give your outdoor classrooms a unique character, you can't go wrong with the beautiful flooring finishes available from Modern Garden Rooms. From practical laminate flooring to sound-absorbing and comfortable carpets, we have something to suit every style. With our selection of options, you can create the perfect combination of form and function that is sure to inspire anyone who steps inside.
Lighting Solutions
Taking advantage of the great outdoors can be a brilliant way to make a classroom experience more engaging, exciting, and educational for students. But in the UK's unpredictable weather, natural light is not always guaranteed, so we offer an extensive range of internal and external lights will help ensure you can make good use of the classroom in all conditions.
Inspiring Outdoor Classroom Solutions
A Modern Garden Rooms outdoor classroom is the perfect way to secure a high-quality learning environment for your school without breaking the budget. Invest in a beautiful and functional classroom space that will last you for years and unlock the potential of your students with an innovative approach to education. With competitively priced packages, you can be sure that every penny counts while ensuring maximum value – so you can create an inspiring environment fit for learning without compromising on quality.
Manufactured off-site, we are able to minimise installation time and time spent onsite, so that typically delivery and fitting can be completed in the space of just a few weeks. With the tactile features included in the design, such as natural woods and recycled materials, these garden classrooms bring an additional dimension to your students' educational experience.
Can we have a toilet or kitchen in our outdoor classroom?
Yes, absolutely. We can help you design your outdoor classroom space to include toilet facilities or kitchenettes, and work with plumbing teams to get those services connected.
Can we have multiple rooms or divide the space in our garden classroom?
Yes, we can create garden classrooms that have multiple spaces or dividable rooms. Don't be afraid to ask for more details on how we can install partition walls and divide up any larger space; with a bit of creativity, it can open up all sorts of exciting possibilities!
Will an outdoor classroom require planning permission?
Each of our outdoor classrooms is thoughtfully and strategically designed with pre-approved planning permission guidelines in mind. This means that in most cases you can avoid the time and cost of seeking a planning application and get straight to work designing your fantastic new outdoor classroom.
Are your outdoor classrooms heated?
Our outdoor classrooms are built using high-performance insulation as standard and come with a range of customisable heating options including wall-mounted radiators, underfloor heating, and powerful air conditioning.
Design a Bespoke Outdoor Classroom
Are you looking to create a unique outdoor environment for your school? With our online design tool, you can do just that at the click of a button. Let your creative ideas run wild as you drag and drop features, creating an outdoor classroom of your own specifications. In no time at all you'll have an original concept which we can help bring to life and make it a reality. Plus, you will get an instant price estimate along the way so there are no surprises when it comes to cost. Start designing your bespoke outdoor classroom today.
Visit Our Showroom
When it comes to giving your students the opportunity to take their learning outside the classroom, there's no better way to make sure you make the right choice than by visiting our showroom near Leeds. Our dedicated design team will work with you every step of the way to ensure that your outdoor classrooms perfectly suit your school property and budget. Come and gain inspiration as you witness first-hand how you can create an engaging learning environment for your students. With our help, you'll be able to deliver top-notch educational experiences that are unlike any other!