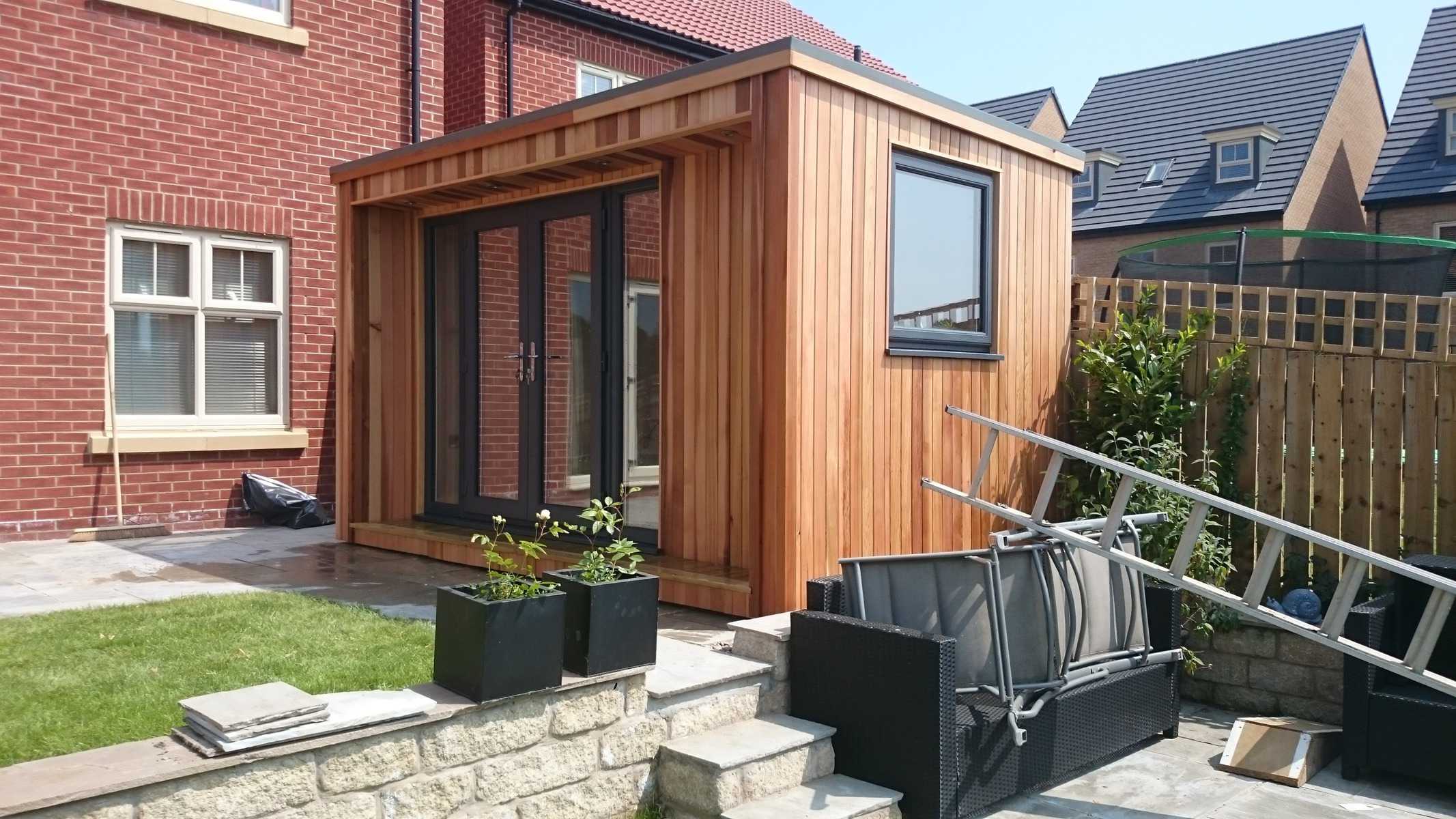 Small Garden Office – Concave Room 4m x 2m
13th February 2019
More and more people are starting to work from home. There are plenty of pros to home working – less time spent commuting and more time for spending with the family, for instance – but not everyone has the space to set up an office at home.
So what do you do when you have the option to work from home but no space? Realistically, sitting on the sofa isn't going to cut it. You could move house, or perhaps invest in a house extension, but a garden office could be a much cheaper, easier and quicker option.
Even if your garden doesn't have a great deal of room to spare, don't write off the idea of a small garden office.
Tony from Rotherham contacted Modern Garden Buildings to build an office for his patio area, and we were only too happy to help him!
Specification:
Tony's small garden office was based on our concave room.
It measured 4m x 2m and the concave canopy/enclosed section and decking area to the front measured 0.3m instead of the usual 1m.
Client Name:
Tony from Rotherham, South Yorkshire
Requirement:
Tony wanted a building with a sleek look to his new garden building.
The dimensions of the garden office needed to be smaller than many we had previously built due to the fact it was to be erected on an existing patio which limited the proportions.
However despite its limited dimensions, the small garden office still needed to be comfortable to work in without feeling cramped.
Our solution:
Our suggestion to Tony was a concave room measuring 4m in length and 2m wide. The small garden office was placed sideways along the widest part of his patio, facing the path leading from the house into the garden.
Because of its limited proportions, the concave section (downlit canopy, enclosed sides, and decking area) measured 0.3m rather than the the standard 1m, which still allowed for some seclusion and the modern look he wanted, whilst not taking too much space away from the inside.
Originally, Tony decided to go with another supplier; however for reasons unknown came back to us some time later and we were only too happy to build his small concave garden office.
With smaller buildings there is always the possibility that it will feel cramped, however with large, sidelit French doors aligned to the left of the building to meet the path, and a large window to the side, the office was designed to be as light and airy as possible.