5 Tips for Designing a Garden Room That You'll Never Want to Leave!
28th February 2020
Building a garden room is one thing, designing it is quite another. Every single garden room can be made unique and that all comes down to you. Your personal stamp, your ideas, your inspiration and your vision for the extension of your home. With so many beautiful interiors themes to choose from, we are all really spoilt for choice and most will fit in wonderfully with your garden room but there are some key factors that you should also consider when designing a garden room that you'll never want to leave!
Natural Light
Light plays such an important role in any room and should be a main focus when you are talking through the garden room build with your chosen company. Think about where the natural light will be throughout the day, think about how you can utilise on this because let's face it, natural light is far more appealing than artificial lighting, isn't it? Keep an eye on where the sun moves around the spot where you'd like your garden room to be and consider the times of day that you'll be using it. Clever window placements, skylights and large bi-folding doors will all work in your favour.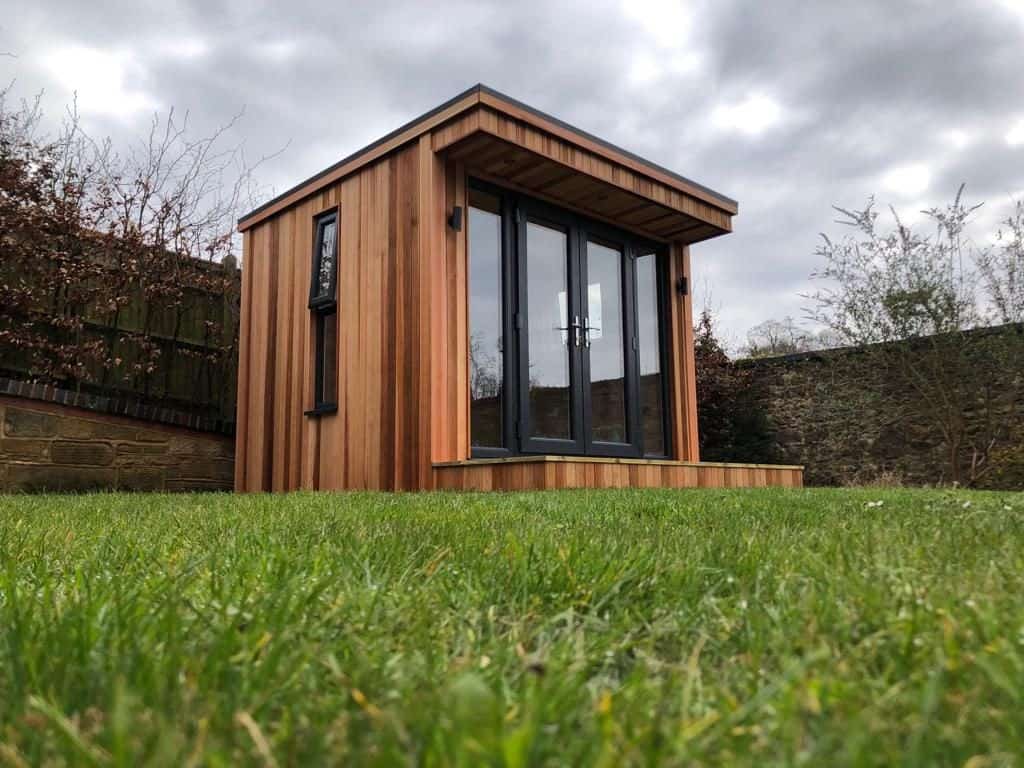 Create the Illusion of Space
If your new building isn't going to be very big, you can give the illusion of having extra space by making a few clever design decisions. Natural light is one (see above) and our second tip is to use white or light coloured paint on the walls. The natural light will bounce off the white walls and make your garden room seem so much larger and also airier. Our third tip is to furnish it as minimally as possible. Overcrowding a small room with heavy furniture is only going to make the walls feel as though they are coming in on you. Instead, choose one piece as a focus. A sofa can be a great choice if you want to use your room for relaxation and entertaining. A simple rug, coffee table and perhaps a beanbag will provide you with all you need to enjoy your new building.
Divide the Room
Your garden room doesn't need to be used for just one sole purpose. Why not think about how you could divide the room up to create different 'stations'? You could have a corner for a computer desk for somebody to work from home on. You could have an area filled with cushions and candles for relaxation and meditating. A reading nook would make a great addition to any garden room. It is just the perfect environment for sinking into a good book. An area for a sofa and coffee table is a must if you want to enjoy a quiet moment with friends. Other things you may want to consider include an exercise area, dining area, painting corner, a kitchenette or games area.
Add a Touch of Greenery
Plants can do wonders for the overall look of your garden room but did you know that they can also improve the air quality? By carefully choosing plants that naturally purify the air you will be creating a space that will feel as good as it looks! Aloe vera, Areca Palm, Bamboo or Reed Palm, Rubber plant and a Ficus are all great examples of these wonderfully clever indoor plants.
Statement Pieces
Even a minimalist theme needs a few statement pieces to give your room that little piece of your personality. Whether that's in the form of an oversized vase, a statue, a bold lamp, a large painting, a wall mural or an eye-catching piece of furniture you can have some real fun hunting down a piece or several pieces that will make you smile every time you walk into your room.
By following our 5 tips you should have the perfect foundations for designing a garden room that you will love and one that you'll never want to leave!