Important information about your room and frequently asked questions
We have prepared these FAQs to advise you throughout the process of designing and purchasing your garden room. They should be read with our Technical Specifications and Terms and Conditions.  We find many of our customers have similar questions so please do take the time to read through this document. If your question is not covered, please contact us and we will make sure you get the information you need. 
Can I see some examples of rooms you have built?
We have a gallery on our website at: https://www.moderngardenrooms.com/ 
Our Facebook page also has examples: https://www.facebook.com/moderngardenrooms/
You can also look at our Instagram page: https://www.instagram.com/moderngardenrooms/
You might also like to have a look at our Google Review page which has customer testimonials:
Is it actually possible to build a room in my garden?
During the design process we will talk you through site and access requirements. There may also be local planning requirements to be aware of – please see below for further information on this. As with any build, we will need access to nearby parking for the delivery of materials, and clear, STRAIGHT access to the build site.
If there are any prior groundworks needed for your garden room plot, you will need to make sure these are completed in advance of the installation. The area should be left cleared of all buildings, debris/rubbish and large vegetation. 
There should be adequate and safe parking for 2, 6m long transit vans throughout the duration of the build. Good clear garden access is important to ensure the build goes smoothly and to schedule. We need a straight run to get our long roof panels, cladding and glazing to the build site – which could be through the house.
If you are not sure if your plot is suitable, or you are concerned about access issues, please send us photos and/or a short walk-through video and we can advise accordingly.
Our pile foundation system can accommodate a slope of up 500mm. If your garden slopes more than this we will discuss the best options with you.
We don't have a minimum size for our rooms but generally find the smallest we tend to build are 2.5 x 2m rooms.
Will I need planning permission for my room?
As a general rule, Modern Garden Rooms do not usually require a planning application as they fall within permitted development rules under class E. This is pre-approved planning permission as long as your room is built subject to a number of limits and conditions:
The most important factors are:
That the garden room is no higher than 2.5m from the bottom of the building to the top of the roof (if within 2m of boundary).
That you do not take up more than 50% of your garden area with this or any other buildings.
It is not to be used for living or sleeping accommodation.
Your room is in your back garden OR your room is in your side or front garden but behind the front curtilage of your house.
Local planning regulations do vary so you should check with your local authority, particularly if you are in an Area of Outstanding Beauty, a Conservation Area or on the Greenbelt. Please note it is your responsibility to ensure you comply with both Planning and Building Regulations. Please also see our website for more detail on planning requirements and building regulations: https://www.moderngardenrooms.com/planning-permission-uk/
If I need to apply for planning permission can you provide drawings?
We can provide detailed drawings for you for £150 which will show floor plans and elevations. The charge is refundable if you go ahead and book your room with a holding deposit. If you have paid your holding deposit and you don't receive planning permission, we are unable to refund you the drawings fee and will return your holding deposit less the drawing fee. Generally speaking, we advise our customers to pay their holding deposit to secure a diary slot while the planning process takes place, as this means your installation slot is confirmed and you will not have to wait further after permission is granted. Of course if your planning takes longer than our lead times we will be able to move your installation date in the diary.
Can I have my garden room on my boundary?
Where your room can be sited on your plot is governed by Building Regulations and is related to fire safety. A room which is under 15m² (internally) can usually go up against or form a boundary. For practical reasons, our installation team usually require a 40cm access gap to physically build the room as this involves the use of nail guns and other equipment. It may be that you are able to remove a fence panel by agreement with your neighbour which would assist with access. Depending on size, it may also be possible for one wall of the room to be closer to the boundary as our team can sometimes build a wall completely and then lever it into place. This is not generally possible for walls over 5m wide.
All of our rooms come with corrugated panels as standard on the rear elevations. If you wish, you can upgrade to cladding on the rear elevation (please note that this will incur an additional cost).
Building regulations requirements mean that rooms over 15m² and up to 30m² need to be sited a minimum of 1m from a boundary or constructed substantially of non-combustible materials. Rooms larger than 30m² (internally) need to be sited 2m from a boundary and will need Building Regulations sign off (please note these are internal dimensions). We can help you calculate the dimensions of your room and maximise the space you wish to have in order to conform with building regulations requirements.
Can I have any size of room I want?
As we are a builder of bespoke rooms, we are able to customise the size of our rooms to your needs. There are some practical issues which we need to take into consideration. Our roof panels come in a standard size which means that we generally build our rooms to a maximum depth of 6m inclusive of any canopy.
Most of our customers build their garden room to a maximum height of 2.5m as this fits with permitted development rights. We have also built many rooms higher than this, which may work better if, for example, you will be using your room as a gym. You may need planning permission for a higher roof line.
You should bear in mind that 2.5m is the highest part of the roof at the front of the room (externally). Rooms 2m or more from the boundary can be 3m high. For each metre of room depth the head height decreases by 3.5cm. For example, a room that is 4m deep will have a high roof point at the front of the room of 2.5m and the lowest point at the rear will be approximately 2.36m externally.
Will my room have a warranty?
Our rooms are structurally very sound and made with durable pre-treated materials, so we would absolutely expect a life-span in excess of thirty years and probably considerably longer. As standard we offer a ten-year warranty against any structural defects.
What are the standard options for my room and what is included/not included?
Our configurator design tool (found on our website https://www.moderngardenrooms.com/bespoke-garden-rooms/ ) will help you start your design process. With this tool you can choose your style and size of room, your cladding, add different types and numbers of windows and doors, as well as internal partitions and electrics, and tweak your design until you are happy. Our team can then help you refine your design or if you prefer, design your room from scratch. We are transparent and open about our prices and as you design your room, you can see your pricing information amend and adapt as you fine tune your design.
Fixtures and Fittings
As standard all rooms come with brushed-aluminium fixtures and fittings. These include a track light with 4 adjustable spotlights, canopy lights (where applicable), 4 double sockets, 1 light switch (2 if you have selected a canopy room), a 1.5kw heater and a consumer unit. If you would prefer recessed ceiling lights, wall lights or need extra sockets, we'll fit them to meet your requirements and will specify this in your design.  Examples of the fixtures and fittings can be seen below in the Electrical Requirements section.
We can also accommodate a wide range of additional extras such as sockets, lighting, USB outlets, and brush plate outlets for TVs. We can include windows and doors of different shapes and sizes in almost any configuration you wish. This means your garden room is suited to your lifestyle.
Our consumer unit:
Our panel heater (models may vary):
Flooring 
All rooms come with oak-laminate flooring due to its hard wearing and stable properties; included is a 10-year manufacturer's guarantee covering finish and wear. Pre-primed timber skirting completes the look. Please see the flooring section below for further details of your flooring options.
Wall Construction
Using modern and advanced construction technology, the walls are multi-layered: 
18mm cladding – various options available (composite, cedar or render)
25mm x 25 tanalized timber to create air circulation space 
Waterproof membrane 
4″x2″ c16 structural timber containing acoustic insulation 
Celotex rigid insulation
Plasterboard and plaster skim coat ready for you to decorate
You can see further detail in our cross-section diagram below:
Foundations 
Our pile foundation system comes as standard with all our rooms. Holes are hand dug with shovels at 1m intervals across the whole footprint of the structure. These are then filled with concrete and metal stilts are inserted onto which the joists of the structure are anchored. If your site has a solid base (for example a concrete slab, flagstones, hardcore or cobbles) please let your Sales Consultant know so that we can assess its suitability for our foundations.
We are sometimes able to make use of an existing concrete pad (for example where there has been an outbuilding) if it is in good condition and more than 10cm deep. If your room design is larger than the existing base, this can be accommodated through a combination of the existing pad and supplementary pile foundations, depending on the nature of the plot.
Roof
Our roofing panels and profiles are produced to form an insulated roof system that meets the modern need to create energy-efficient and aesthetically pleasing buildings. We are not able to offer skylights, flues for wood burners or green roofs, as this would compromise the quality of the roof construction and the integrity of the insulation. Our roof panels are finished with ridged galvanised steel in anthracite grey.
It is possible to stand on the roof of one of our structures (at your own risk), however we ask you to be careful of the plastic cover caps which we glue over the bolts that secure your roof.
Insulation
In total the walls are 175mm thick, and comprise the cladding, timber joists packed with 75mm of rockwool insulation, 25mm of celotex insulation, a waterproof membrane, plasterboard and are finished with a plaster skim. The U-value of the walls is 0.27w/m2k, although we can increase rockwool insulation from 75mm to 100mm which would take the U-value to 0.23w/m2k. The roof is a commercial grade composite panel system including 100mm of insulation with no thermal bridging, externally finished with metallic roof sheets in anthracite grey to match the door/window frames. Internally, again, the ceiling is finished with a plaster skim. The floor provides 75mm of rockwool insulation between the joists and 25mm of kingspan insulation. Atop is an 18mm subfloor and then your choice of flooring - typically a laminate. As standard our windows and doors come double-glazed and based on R value and air leakage calculation are A-rated.
External Cladding
Externally the western red cedar timber cladding gives a warm and vibrant feel to the building. Cedar will last for decades without any artificial treatment however, over time, UV light will bleach the colour leaving the timber a silver/grey colour. Many people prefer how the 'silver' appearance blends in with the surroundings.
The amount of time the weathering process takes is dependent on location and exposure to the sun. UV filter treatments are available that will stop or slow down this silvering process. We recommend the application of 2 coats of Osmo UV oil within three months of your build and then every one to two years thereafter, to maintain the colours and help protect the cedar from the sun.
https://www.osmouk.com/sitechaptern.cfm?bookid=Products&chapter=82&page=262
We also have the option of a composite cladding (available in a number of colours) and a render, also available in any RAL colour. Both options are maintenance free.
Underfloor Heating
Underfloor heating is available as an option for your room. All our rooms come with an electric panel heater as standard (and you can upgrade to a programmable heater if you wish). Because the rooms are so well insulated, most of our customers find that this is more than sufficient to keep them warm in the winter (and cool in the summer). However you can certainly specify UFH if it is right for your circumstances. We supply UFH with a Wi-Fi thermostat. Please talk to your electrician before deciding as the UFH may impact on the type of cable you need to connect to your main supply.
Our chosen UFH System
Warmup Matting Underfloor Heating Systems are designed to be tough enough for professional use, yet easy to install for do-it-yourself enthusiasts. 
The StickyMat System consists of a thin loose wire evenly spaced and taped to a glass fibre mesh with pressure sensitive adhesive, which allows for the fastest and most secure installation method of electric underfloor heating. The system we use is 200 W/m2 heat outputs. 
The Warmup Underfloor Heating Mat System utilises a dual core heating element with only one power lead to wire, it is easy to install in just a matter of hours, without raising floor levels. The cable is attached in a series of loops to thin but tough underfloor heating mats, to fit floor areas from as small as 0.5m2 and up. 
Features and benefits 
Thinnest wire you can buy: 2mm, multi-strand core, double-insulated using advanced fluoropolymers.
StickyMat with pressure sensitive adhesive, for the fastest and most secure installation.
Quick installation – Simply roll out the underfloor heating mat with pre-spaced wire.
The pressure sensitive adhesive ensures that no wire or mesh is raised when tiling or covering with self-levelling compound.
Can be repositioned easily without losing adhesion.
Flexible – no customising is necessary.
Approvals: ASTA BEAB, KEMA, GS, CERTIF, VDE and CE mark. 
Lifetime Warranty.
SafetyNet Installation Guarantee.
Doors and windows
All UPVC doors and windows come in anthracite colour on the outside and white on the inside unless otherwise specified.
All aluminium doors and windows come in anthracite both inside and outside. 
The aluminium sliding doors have one fixed pane and the other panes slide. 
All external doors open outwards unless otherwise specified.
If you choose French Doors, we will ask you which door you would like to be your "master" door. This is the door you will use on a daily basis to enter and leave your room, with the other door opening when required.
If you choose bifolds or sliding doors, we will ask you which way you would like them to slide/fold.
What is not included?
Any works needed to clear the site of existing buildings, to level the site or remove vegetation.
Internal decorations. Please see below for more details.
Connection to the mains electricity supply which will need an electrician to install an armoured cable from your house to the room (further details below).
Any additional fixtures and fittings and connections related to any plumbing you may wish to install. You will need to contact your plumber to arrange this. We can add any electrical spurs you need during the first fix.
Can you build irregular shapes?
As a bespoke builder we are able to build a variety of shapes to maximise your garden layout – L shaped rooms are very popular for example. Please contact us to discuss your project in more detail and we can help you with your design.
What happens during the installation?
Our after sales team will make contact with you the week prior to your build to introduce you to your installation team and to exchange contact details. You will also be asked to choose your laminate flooring if you haven't already done so. From this point on your key contact will be the after sales team, and we are always here to help if need be.
Our installation team will drive to your build site from West Yorkshire, so depending on the distance and traffic conditions they may not arrive on site until mid-afternoon on the first day of installation. They will generally stay in a nearby hotel for the duration of the build.
This short time lapse video shows the installation of one of our rooms in a customer's garden, so you can see how the installation process works:
How long will my room take to build?
Generally speaking we allocate installations in weekly timeslots, which includes travel to and from the site.  The teams are usually on-site from Monday afternoon to Thursday afternoon, or Tuesday afternoon through to Friday evening.  Please be aware that our installers tend to work very long hours and always attempt to keep the noise to a minimum post 6pm; and that the team usually need to leave site to collect materials throughout the duration of the build.
What are the electrical requirements and options?
Here is a brief summary of the electrical element of the build.
MGR do first and second fix electrics – we supply and fit lights and switches, sockets and a panel heater. Wires are chased in behind the plaster to the location of the consumer unit (which we supply but your electrician will wire).
The position of all the electrical sockets and fitments will generally be agreed on site with your installation team.
The Consumer unit can go wherever you wish in the room – your electrician is best placed to advise. Please inform the installation team when they arrive of your agreed location so they can track back the internal wires to your proposed location.
Your electrician needs to wire and fit the consumer unit and "hook up" the garden room via an armoured cable to the main house electrics. This needs to be done after the installation team have left.
Your armoured cable will need to be at least 6mm in order to service the room up to 32 amps. This does vary depending on the electrical load, so please do check with your own electrician.
If you already have an armoured cable on site, you can request us to take the cable into the room at the time of construction, which reduces drilling and makes it easier for your electrician when they return to do the final hook up to your mains supply.
We do not sign off any electrical work. Please discuss this with your electrician prior to the build.
Things you may need to consider prior to talking to your electrician:
Have you got RCD protection on your main house consumer unit (if you do not then you will need an upgrade in the main house). An RCD is a breaker with a small test button on it which cuts off the electricity if there is a fault on any of the circuits under its protection.
Do you want air conditioning or underfloor heating instead of the standard panel heater?
Where would you like your consumer unit located? It is recommended to be located between 1350mm and 1450mm from the floor.
Cables clipped to the fence are a lot cheaper than burying in the ground when considering how the cable will be taken to your room.
What is the length of the run (in metres) from the house consumer unit to the garden room?
How many additional sockets/switches/fused spurs do you want if over the standard number?
Do you need additional lighting internally/externally?
Do you want an extractor fan in the bathroom (if applicable)? If so, how close to the shower will it be (in the shower, outside the shower?). If you want an extractor fan in the bathroom it's good practice to have an isolator switch installed high up on the bathroom wall.
Do you want to instal a hob? If so, what power is it?
If applicable, you should not have any sockets on a wall above a hob – this is not good practice and not allowed in main houses as the socket can be affected by heat.
If you are having a kitchen/kitchenette, do you want to install an extractor fan?
Do you want smoke/heat alarms? If so, do you want the smoke alarm wired or battery? Building Regulations do not require a smoke alarm, but you may wish to instal one.
If you live in the Southeast of England and don't have your own electrician we can recommend the services of Jack Sedgwick who has worked on many of our builds.
What are the plumbing options?
If you have designed your room to have partitions and are intending to install a shower room/ kitchenette it is important that you speak to your plumber well in advance of installation to ensure mains services have been laid/planned for connection to your room. The installation and connection of plumbing related hardware is the responsibility of you and your plumber. Please note, we do not plaster any walls that form a space which will be used as a bathroom. This allows for pipework and hardware to be fitted efficiently. If your plumber would prefer, we can fix the plasterboard or leave it within the room to be fitted by your plumber after the bathroom has been fitted.
Things you may need to consider if you wish to include a shower/loo/kitchen sink/basin:
Your electrician/plumber will need to see pictures of your main house consumer unit (with the flap up so that switches are visible) to check to see if you need this upgraded in advance of the works.
Do you require a shower to be installed? If so, you need to discuss this with your plumber who will advise whether the existing water pressure is capable of servicing your room or whether you will need to install an electric shower.
Do you require hot water at the kitchen sink/basin in which case a small water heater may be appropriate. Please note you may require a more powerful consumer unit in your room to cope with the increased load, as well as spurs to connect to these additional units. Your electrician/plumber will be able to advise the size of consumer unit and number of spurs required.
Where is the nearest soil stack or manhole in relation to the position of the garden room?
Do you want heating in winter and cooling in summer?
Do you wish to install a macerator pump to get rid of waste water?
Are you happy for cables and pipes to be visible along a fence mounted low down?
If you live in the Southeast of England we have a plumber we can recommend and who works with our customers regularly, should you not have your own trusted plumber.
What is the noise insulation used in modern garden rooms?
We find our normal plasterboard is sufficient noise insulation for the majority of our customers. If necessary, you can upgrade to acoustic plasterboard. We place 12.5mm of acoustic plasterboard onto the walls only (it is too heavy to be used on the ceiling). The reduction index of normal plasterboard is 34 decibels, whereas the acoustic version is 37 decibels.  You can read more here:
https://www.british-gypsum.com/technical-advice/faqs/006-what-is-the-sound-insulation-performance-of-gyproc-plasterboard
What are my lighting options?
Tracklights
Our standard track-light shown below (with 4 adjustable spots) is included in the price of your room. You are also welcome to supply your own tracklight and we will adjust the price of your room to reflect this. We always supply warm white bulbs in our lighting as they are ideal for creating a calming and homely ambience.
Wall Lights
Wall lights can look very stylish in a garden room as shown in the adjacent photos. If you are considering using wall lights instead of ceiling lights, do bear in mind that you tend to require more wall lights than track-lights to give the same level of lighting. There is also a cost implication for fitting/wiring each one.
Surface Mounted LED Pads
Another option is surface mounted LED pads. Shown below is an example for a big room, but smaller pads than these are available. Depending on the size and specification your room price will be impacted. The available sizes are 50cm x 50 cm, 60cm x 60cm, 60cm x 30cm. If this option is of interest, you can see more panel styles here: https://www.ledpanelstore.co.uk/led-panels.html 
Downlights
Your final option is recessed LED downlights. These can add a sleek, uncluttered modern look to your room. For these we need to create a void in the ceiling to house the lights which will then be flush with the ceiling. This will reduce the internal headroom by a minimum of 50mm and will incur an additional cost.
External Lights
Our canopy, border and concave rooms come with recessed downlights, shown in the images below. Additionally, you have the option of adding black PIR lights which finish the room well and provide useful lighting when accessing your room at night. Please see below for examples of our PIR lights: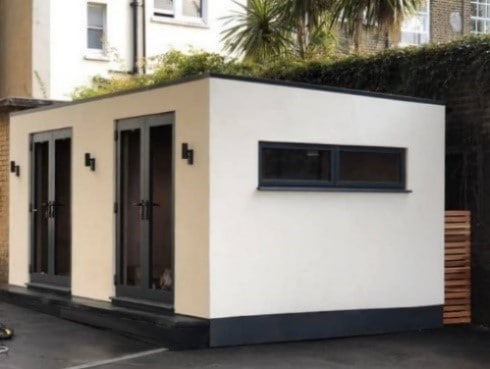 What are the flooring options for my room?
All our rooms come with laminate flooring as standard. You can choose from the following options:
Grey oak: Oak: Dark Oak: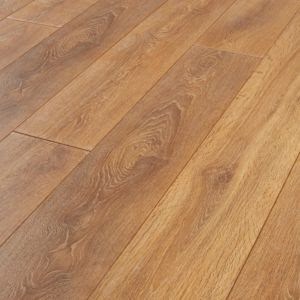 We will ask you to finalise your flooring choice no later than four weeks before the start of your build.
Who is responsible for internal decorations?
MGR do not do any internal decoration of the room. The walls and ceiling will be plaster skimmed which needs to be left to dry thoroughly prior to painting (at least two weeks, depending on the time of year and weather). Please leave the room well ventilated to encourage the drying process. The time this takes will depend on the time of year and the external weather conditions, in addition to the level of ventilation in the room. Please pay particular attention to the edges and corners where the plaster may be thicker and will take longer to dry. Applying emulsion to wet plaster means that it may not bond properly and you could find that it peels off your wall. Painting on dried plaster can also cause the paint to dry very fast, leaving you with irregular brush strokes and an uneven finish. To combat this, you need to apply a mist coat.
MGR will fit pre-primed skirting boards and these will also need to be painted with a top coat of paint.
What is the booking/ordering process?
Once you are happy with your design, and wish to go ahead and order one of our rooms, the process for booking with us is as follows:
You make a holding deposit of 20% of the total quoted price via bank transfer (details are below). This deposit secures an installation slot in our diary, which we will have discussed with you during the design process. With sufficient notice, you may be able to delay your installation date, and occasionally we have movement in the diary, so if you are after a shorter time frame, please let us know and we will try to accommodate you.
Approximately 8 weeks prior to your installation date, we order your glazing, so any changes to your design need to be agreed by this point. Your first instalment will also be due at this stage. Payment of your first instalment indicates your acceptance of our Terms and Conditions (detailed below).
During the build process we may invoice you for further instalments, detailed in the table below. The numbers and amount of your instalments will depend on the length of your build and size/complexity of your room.
Any on site changes should be discussed with your sales adviser as additional costs may be applicable.
We cover the whole of the UK mainland and there is no surcharge for our travel costs. However, if there are applicable charges to your location, such as the congestion/emissions charge or parking costs, these charges are your responsibility and will be invoiced as appropriate.
Please note that your installation team will invoice you directly for the build element of your room, and you will pay them directly. If you are paying through your business, please see the next section for information on VAT.
On completion, we will invoice your final instalment, including any on-site changes or alterations completed during the build.
Your invoice is personalised to you and will outline all the relevant due dates for the various deposit payments along with our bank details, which are shown below.
Barclays Bank:
Modern Garden Rooms Ltd
Sort code: 207842
Account number: 93189465
| | | | |
| --- | --- | --- | --- |
| Phase of Build | Instalment Amount One Week build | Instalment Amount Two Week build | Instalment Amount Three Week + Build |
| Holding deposit to secure diary slot | 20% of total quoted price | 20% of total quoted price | 20% of total quoted price |
| 8 weeks prior to build date Spec is finalised Instalment 1 | 30% of total quoted price | 20% of total quoted price | 20% of total quoted price |
| After week 1 Instalment 2 | | 30% of total quoted amount | 15% of total quoted amount |
| After week 2 Instalment 3 | | | 15% of total quoted amount |
| Build complete Final payment | Balance of quoted amount Installation team will invoice you directly for build element | Balance of quoted amount Installation team will invoice you directly for build element | Balance of quoted amount Installation team will invoice you directly for build element |
Please note, your holding deposit is non-refundable except in extenuating circumstances, such as planning permission being denied or a house sale falling through, where this has been agreed in advance with your sales consultant.
What if I am paying through my business?
We can certainly invoice directly to a business. However please note that the installation teams work solely for Modern Garden Rooms, are self-employed and not VAT registered. The gross cost stated is what you will pay in total and is inclusive of installation and all VAT where applicable. The installation cost will be invoiced separately and will be VAT-free thus altering the total amount of VAT on this job.
Do you offer discounts or have promotions?
We are delighted that you like our designs and our customer service. We pride ourselves on not only providing high quality garden rooms but also in providing a superior level of service prior, during and after installation.
Don't just take our word for it, have a look at our Google reviews to see the testimonials left from our customers:
You can also see the quality of our rooms in our website gallery: https://www.moderngardenrooms.com/; on our Facebook page and on our Instagram page.
We are sure you will have discovered during your research that our prices are extremely competitive for the type and quality of rooms we build. We offer a high end spec for mid range prices due to our low margins so therefore we do not offer any discount on our quotes. We can of course change the specification for you to enable you to work within your budget.
You can make alterations to your specification to reduce the price of your room. Options to reduce the cost of your room could include:
Reducing the size.
Replacing the cladding on unseen elevations with corrugated panels or cement board (eg when against a wall and not visible).
Reducing the size of the decking and/or canopy.
Reducing/removing the electrics in the room.
Changing the doors and/or using less glass.
As our rooms are entirely bespoke it's always important to have a conversation about your own particular requirements as there are often design changes or cost saving that we can make. So do give us a call or email us so that we can work with you to revise your design to work within your budget.
What are your lead times?
Our lead times do vary. Many people are now seeing the advantages of having a garden room to work from home and thus enjoying the shorter commute involved. We have added additional installation teams to cope with the increased demand. Please do contact us for an update as our booking diary changes on a daily basis.
Is Modern Garden Rooms fully insured?
Yes we are fully insured.  Our public liability insurance is provided by Simply Business. If you need it, our Policy number is MHGB2253845XB.
What happens after my room is built?
After your room is complete, you will need to dry it thoroughly for a minimum of two weeks prior to painting, and have your electrician connect your services to your mains supply.
The room will settle over time, and occasionally, we find that customers notice a slight misalignment of the doors which can make them difficult to open or close. This is quite normal and is nothing to worry about. A quick and easy adjustment will rectify the issue. If this does occur with your room, please click this link to watch a short video containing simple instructions to realign the doors.
https://youtube.com/shorts/XayLaiDhyZ0?feature=share
We welcome feedback, both positive and negative, and would love to have any photos of your room once it's dressed and landscaped. We're always grateful for any reviews we receive. You can see our reviews here:
You may need to check your insurance policy to ensure that your garden room and contents is covered under your existing household policy.
Your insurance company may ask you about security to your room, and we are happy to confirm that all of our suppliers of doors and windows manufacture their products to meet or exceed current British standards.
If you would like specific information about the locks on your doors and windows, please contact our After Sales Team and we can provide you with the information needed.
1. DEFINITIONS
In these conditions the following definitions apply:
Completion: The date on which we notify you that the Project has been completed.
Contract Price: The price specified on the Invoice or such other price as may be agreed in writing between us at any time after the date of issue of the Invoice.
Deposit: The deposit specified in the Invoice.
Goods: The products we are selling to you as set out in the Invoice in connection with the Project. Order Confirmation: A notification which will be submitted to you to confirm the acceptance of your order by Modern Garden Rooms.
Project: The garden project to be provided by us to you and as described in the Invoice. Invoice: Our quotation for the Goods and Services appended to these Terms or any other quotation provided to you in connection with the Goods and Services prior to you paying the Deposit.
Site: The site at which the Project is to be carried out.
Services: The services that we are providing to you in connection with the Project as described in the Invoice. Terms: The terms and conditions as set out in this document.
We/us: Modern Garden Rooms (Company No.09592664) whose registered office is at 71-75 Shelton Street, Covent Garden, London WC2H 9JQ
2. BASIS OF SALE
We consider these Terms and the Invoice to set out the whole agreement between you and us for the supply of the Goods and Services.
Please check that the details in these Terms and the Invoice are complete and accurate. If you think that there is a mistake please make sure that you ask us to confirm any changes in writing. Once you pay your Deposit you will be bound by the Terms contained herein.
Any samples, drawings, descriptions or advertising we issue and any descriptions or illustrations contained in our catalogues or brochures are issued or published solely to provide you with an approximate idea of the Goods and Services they describe. They do not form part of the contract between you and us or any other contract between you and us for the supply of the Services.
We have the right to revise and amend these Terms from time to time to reflect changes in market conditions affecting our business, changes in technology, changes in payment methods, changes in relevant laws and regulatory requirements. You will be subject to the policies and terms in force at the time that you order the Services from us, unless any change to those policies or these Terms is required by law or government or regulatory authority in which case it will apply to orders previously placed that we have not yet fulfilled.
3. QUOTATION / ORDER / PAYMENT
A Quotation shall be provided free of charge upon enquiry. A Quotation will be based upon information agreed by us and the client. Each Quotation will be valid for 90 days, unless we notify you in writing that we have amended or withdrawn it during this period or a different period has been agreed between us.
If you choose to accept the no obligation Quotation you should provide us with a written acceptance. We will then issue an invoice and a payment of up to 50% of the Contract Price specified in the Quotation will be required as the Deposit to secure your booking. The Order will be in place once we issue an Invoice which will include the anticipated date of the commencement of works on Site. A second payment towards the Contract Price will be payable at the midpoint of the build and a final payment will be due on the day of completion. All goods remain the property of the company until paid for in full. Any balance of payment is due strictly on the final day of installation; the finished building should be inspected and signed off prior to payment.
Payments can be made by bank transfer (copy of transaction required) to:
Account Name: Modern Garden Rooms Ltd
Barclays Bank Account: 93189465
Sort Code: 20-78-42
4. DESCRIPTION OF GOODS
Modern Garden Rooms' brochure, website, drawings and sample specifications are to serve as a guide only and do not form part of any contract. The company reserves the right to alter specifications without prior notice. Some timber sizes are nominal and subject to normal variations. Exact specifications of your Order can be provided on request.
5. GUARANTEE
Modern Garden Rooms structures are covered by a comprehensive guarantee against design and manufacturing faults, material failure, corrosion and rot for a period of 10 years from the date full and final payment is received provided that the company installed the building. Doors and windows are covered by a manufacturer's guarantee while floor coverings, electrical installations, electric appliances, heaters and accessories have a one year guarantee.
6. GROUNDWORK
Unless otherwise agreed, Modern Garden Rooms shall not carry out any groundworks other than the installation of the pile foundations. Where it has been agreed that you will provide the groundworks, it will be your responsibility to ensure that all groundworks have been completed (and if necessary a base installed at the delivery site) to a satisfactory quality so the delivery site is fit and adequate for the installation of the Goods by the agreed delivery date.
If the groundworks and base have not been completed in time for delivery or if they are defective or not of satisfactory quality (in our reasonable opinion), we may charge you a sum to cover any expenses incurred by us in rectifying the groundworks and base, together with any loss caused by a delay in delivering the Goods (except where this is caused by our breach of these conditions or our negligence).
7. ACCESS & STORAGE
You must provide access to the Site during normal working hours as well as storage space for any materials required by us in connection with the Project.
8. OWNERSHIP / RESPONSIBILITY FOR THE GOODS
The Goods shall be your responsibility from the time of delivery and commencement of installation and you will bear the risk of any loss, damage, destruction or theft of the Goods except where it is caused by our breach of these terms or our negligence.
9. PLANNING
Planning consent is not normally required. However, it is the customer's responsibility to ensure that planning consent is not required for the installation or to obtain the relevant permissions prior to the commencement of the build. We recommend you seek clarification from your local planning authority.
10. CANCELLATION / ALTERATION
You may at any time on or up to 6 weeks prior to the first day of the build amend or cancel the Contract by providing us with written notice. In so doing, you will forfeit any Holding Deposit paid but will not be liable to pay the Deposit. If you amend or cancel the Contract before the first day of the build but after you have paid the Deposit you will forfeit all Deposits paid and will be liable to us for all costs reasonably incurred in connection with the Project until we received your amendment or cancellation.
If you cancel the Contract after the first day of the build you will be liable for all costs associated with the Project.
If we cancel the Contract at any time we shall refund you the Deposit.
11. DEFECTIVE GOODS & SERVICES
In the unlikely event that the Services do not conform with these Terms, please let us know as soon as possible after we have carried them out. We will, at our option, either:
• Re-perform the Services: or
• Provide you with a full or partial refund, depending on what is reasonable;
These Terms will apply to any replacement Services we supply to you.
12. LIMITATION OF LIABILITY
If we fail to comply with these terms, we are responsible for loss or damage you suffer that is a foreseeable result of our breach of these terms or our negligence, but we are not responsible for any loss or damage that is not foreseeable. Loss or damage is foreseeable if they were an obvious consequence of our breach or if they were contemplated by you and us at the time we entered into this contract.
When we have completed the installation and delivery of the Goods, we will make good any damage to your property caused by us in the course of installation. However, we are not responsible for the cost of repairing any pre-existing faults or damage to your property that we discover in the course of installation by us.
If you intend to use the Goods for a commercial or business purpose please discuss this with us before submitting your Order. For the avoidance of doubt, we will accept no liability to you for any loss of profit, loss of business, business interruption, or loss of business opportunity.
We do not exclude or limit in any way our liability for:
a) death or personal injury caused by our negligence or the negligence of our employees, agents or subcontractors;
b) fraud or fraudulent misrepresentation;
c) breach of the terms implied by section 12 of the Sale of Goods Act 1979 (title and quiet possession); d) breach of the terms implied by sections 13, 14 and 15 of the Sale of Goods Act 1979 (description, satisfactory quality, fitness for purpose and samples); and
e) defective products under the Consumer Protection Act 1987.
13. EVENTS OUTSIDE OUR CONTROL
We will not be liable or responsible for any failure to perform, or delay in performance of, any of our obligations under these Terms that is caused by events outside our reasonable control (Force Majeure Event).
A Force Majeure Event includes any act, event, non-occurrence, omission or accident beyond our reasonable control and includes, in particular (without limitation), the following:
a) strikes, lock-outs or other industrial action;
b) civil commotion, riot, invasion, terrorist attack or threat of terrorist attack, war (whether declared or not) or threat or preparation for war; 
c) fire, explosion, storm, flood, earthquake, subsidence, epidemic or other natural disaster; d) impossibility of the use of railways, shipping, aircraft, motor transport or other means of public or private transport;
e) impossibility of the use of public or private telecommunications networks;
f) any pandemic that results in the imposition of a local/countrywide lockdown or the incapacitation of our workforce due to illness or quarantine; or
g) any acts or omissions of any subcontractor you use in connection with the Project. 14. DATA PROTECTION
We will only use the personal information you provide to us to provide the Goods and Services, or to inform you about similar services which we provide, unless you tell us that you do not want to receive this information.